Live From Hong Kong
A Global Conversation with Prof. Gabriel Leung, epidemiologist, Dean of Medicine at the University of Hong Kong
Thank you for watching. To see a replay of the programme, see here, and share with your friends.
Live with Prof Gabriel Leung, epidemiologist and Dean of Medicine at The University of Hong Kong, a leading expert on the COVID19 outbreak. He's on the frontline of this global fight. He will take your questions from around the world.
Watching the Q&A with Prof @gmleunghku & Prof @sree here. We will be starting shortly. https://t.co/MiTIAheLwq

— HKU Medicine (@hkumed) March 17, 2020
Click the above image to see a replay of the programme.
Send your questions:
Moderator: NYC-based Sree Sreenivasan, a social and digital media expert and Marshall Loeb Visiting Professor of Digital Innovation at Stony Brook University, New York
You can watch live on this page or go to Twitter @HKUMed beginning at 08:30 to 09:15 Mar 17 HKT (20:30 to 21:15 Mar 16 NYC).
March 16, Monday
8:30-9:15 pm in NYC
5:30-6:15 pm in LA/San Fran
March 17, Tues
12:30-1:15 am in London
6-7:30 am in Delhi
8:30-9:15 am in Hong Kong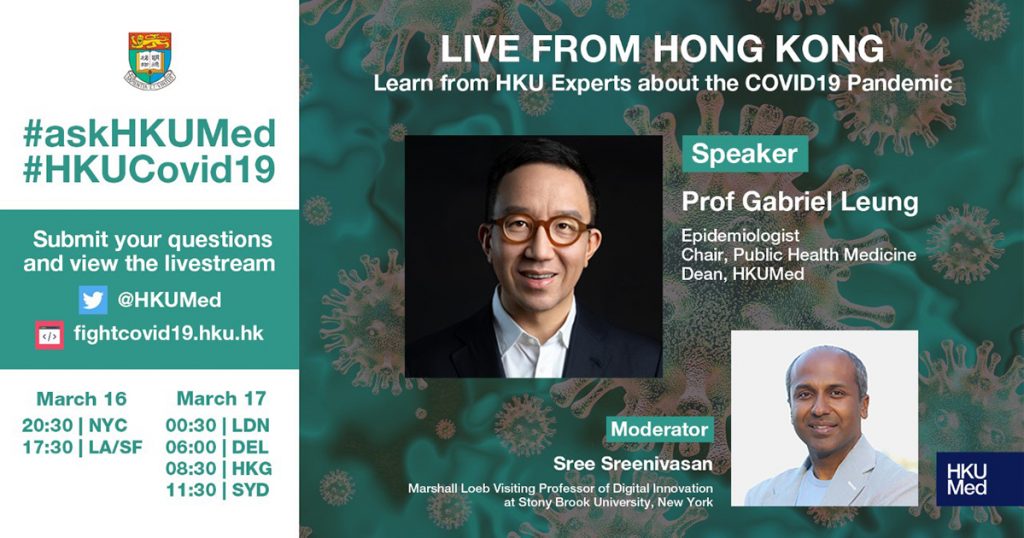 This is the inaugural episode of the #HKUCovid19 and #askHKUMed series, a global dialogue with HKU experts online.
Follow Gabriel Leung @gmleunghku and Sree Sreenivasan @sree on Twitter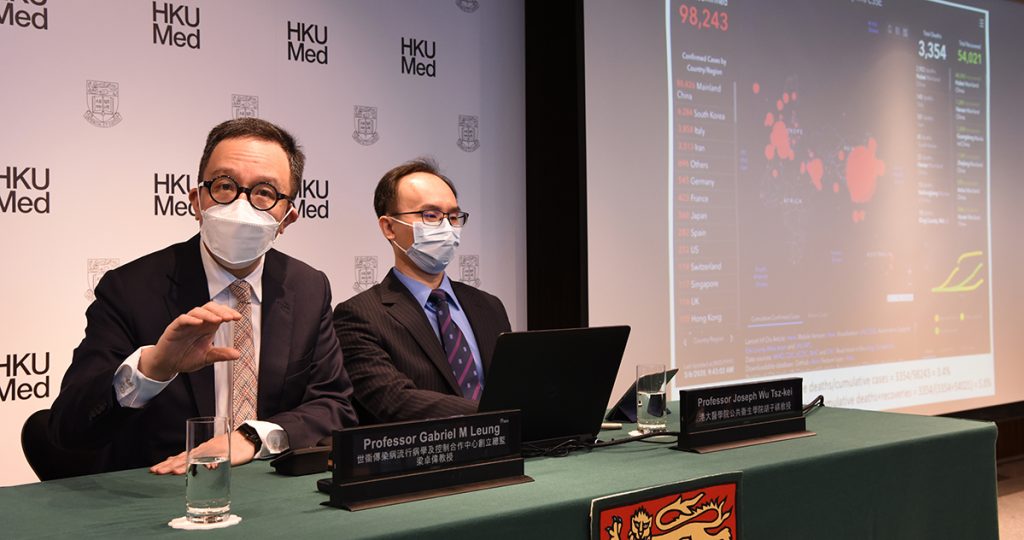 Read More
Watch Prof Leung's chilling interview on 60 Minutes Australia
"Now it's the time to really pull out all the stops. Put everything you got into it to fight it. We have to give it the whole of government approach. Give it all you got. Throw everything at it quick, early and hard. That will buy you sufficient time. And if you are extremely lucky, you might even be able to contain it.," Professor Gabriel Leung.
WHO-China Joint Mission on COVID-19 released fact-finding report with wide-ranging recommendations, Prof Leung is one of the 25 experts on the mission.
HKU professor Gabriel Leung estimates COVID-19 death rate at 1.4%