Community
Speech-language therapy services at a distance by HKU students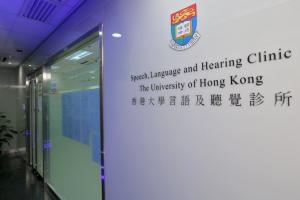 BSc Speech and Hearing Sciences students from the Faculty of Education have been using telecommunications technology to provide long distance speech-language therapy services to clients in Wuhan, Hubei province and in Hong Kong.
Under the supervision of a clinical educator, students work online in small groups to adapt their therapy materials for use in telepractice, a relatively new model of service delivery for the students.
Through the programme, students sharpen their adult coaching skills to involve parents and caregivers more effectively in therapy. They also work with each other and instructors to solve technical problems. Meanwhile, clinical educators are finding new ways to scaffold student learning and provide feedback to students during online therapy.
An essential part of everyday life, communication helps to share information, understand happenings around us and connect with others. Speech therapy needs to be continued to serve children and adults with speech, language, reading, writing, hearing and other communication problems, as well as elderly people with swallowing problems.  They cannot access therapy with the closing of education institutions, such as kindergartens, primary and secondary schools, special-need schools, and elderly care centres.
Telepractice has provided challenges but also opportunities for learning, both for students and clinical educators. What kinds of clients, and which types of communication disorders, work well with telepractice? What do our clients appreciate about online speech-language therapy? How can clinical educators prepare students for telepractice? Is speech-language therapy using telecommunications technology efficacious and cost-effective?
In the coming summer break, the clinical education team will conduct reflective discussions with students from different years of the BSc programme to address these questions, and to develop best practice guidelines for the use of telecommunications technology in speech-language therapy.
The program is conducted by the HKU Speech, Language and Hearing Clinic  which connected which was connected to the children and families in Wuhan,  with the help of the Harmony Charitable Support Center for the Disabled – Wuhan. Ms Winsy Wong, Assistant Lecturer, Academic Unit of Human Communication, Development and Information Sciences of the Faculty for putting us in touch with adult clients in Hong Kong.
To learn more about the program, visit the HKU Speech, Language and Hearing Clinic at http://www.slhclinic.hku.hk/ at the Faculty of Education, telephone 3917 0789 or via email (speech@hku.hk).