[Fireside Wednesday] Episode 3 – COVID Cadenza

[Watch the replay – Fireside Wednesday] Episode 3 – COVID CadenzaWith COVID-19, venues are closed, performances cancelled, Cirque du Soleil laid off 95% of its workforce …So what can artists do in the next 8 months, or next 2 years? What can they create, or contribute? Share their thoughts and music. #Partners, #Resources, #OpportunitiesQ&A – Submit your questions in comment sections or https://bit.ly/39p2q2VHost:• Professor Daniel Chua 蔡寬量 – Mr and Mrs Hung Hing-Ying Professor in the Arts, Chair Professor in MusicGuests:• Cy Leo 何卓彥 Harmonica Virtuoso, Composer and Singer-songwriter • Serrini 梁嘉茵 Singer-songwriter (MA 2015; PhD candidate in Hong Kong Studies) • Lei Tsz Shing 李梓成 (BA Final Year Student, major in Music) Find out more about them: https://bit.ly/2UmHsgV#firesidechat#firesidewed#星期三開爐#新拍檔、#新機會、#新資源Presented by Development & Alumni Affairs Office, HKUContact us: alumni@hku.hk-----HKU iDendron1/F, Knowles Building, HKU Main CampusWeb: idendron.hku.hkFB & Youtube: HKU iDendronEmail: idendron@hku.hk

Dikirim oleh HKU 100 pada Selasa, 31 Maret 2020
COVID Cadenza
April 1 (Wed), 1:00pm – 1:30pm
Live chat (in English) HERE or on Facebook HKU100

With COVID-19, venues are closed, performances cancelled, Cirque du Soleil laid off 95% of its workforce … So what can artists do in the next 8 months, or next 2 years? What can they create, or contribute? Share their thoughts and music.
Q&A – Submit your questions to: https://bit.ly/39p2q2V
Host:
Professor Daniel Chua 蔡寬量 – Mr and Mrs Hung Hing-Ying Professor in the Arts
Guests:
Cy Leo 何卓彦 – Harmonica Virtuoso, Composer and Singer-songwriter
Serrini 梁嘉茵 (MA 2015; PhD candidate in Hong Kong Studies) – Singer-songwriter
Daniel Lei 李梓成 (BA Final Year Student, major in Music)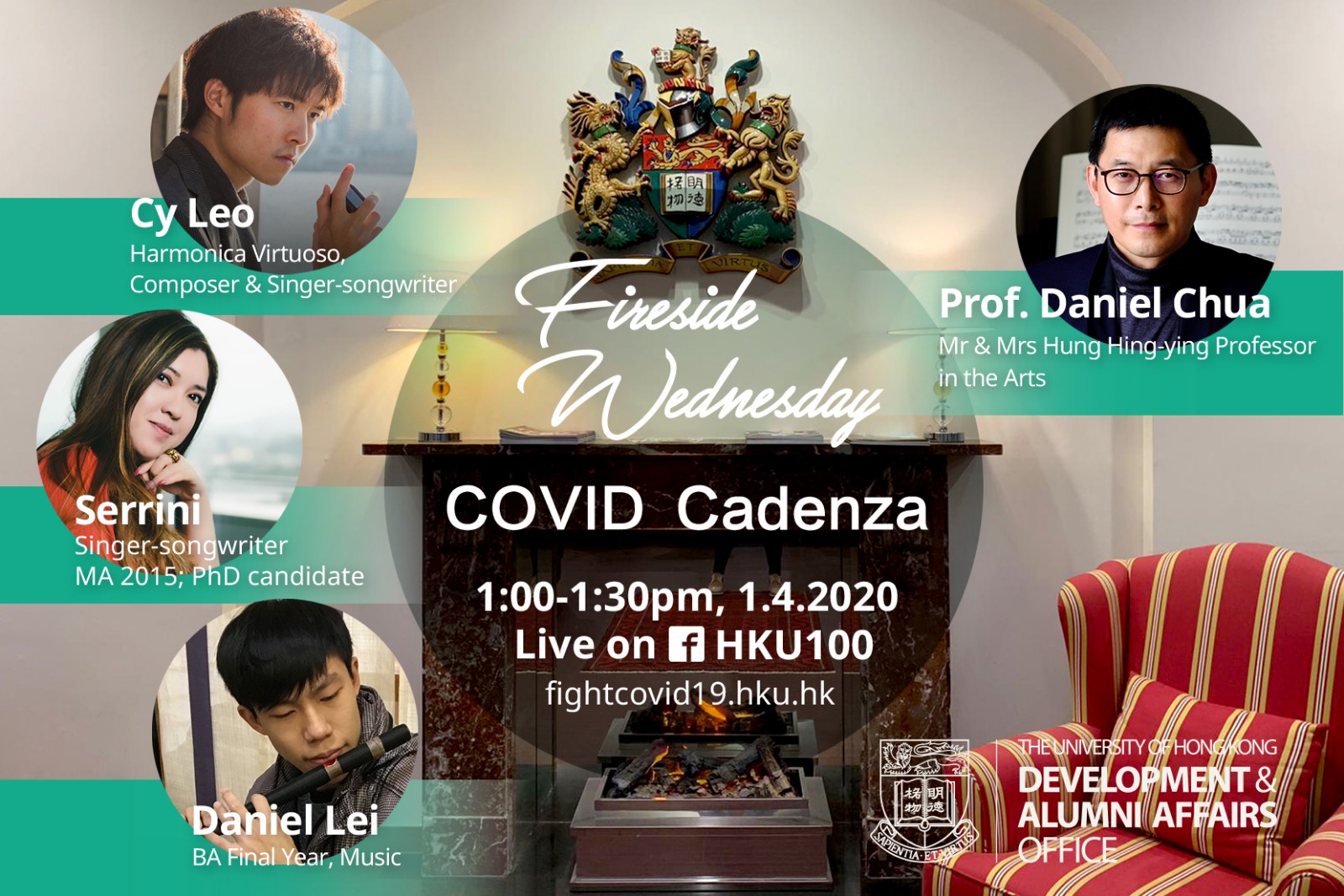 Fireside Wednesday 星期三開爐 new online series presented by Development & Alumni Affairs Office for the HKU Family – alumni, students, staff and friends – to connect with each other for partnership, passion and paths. The 10 episodes will cover tourism, retail, culture, social, NGOs, freelancing (slash), education, technology…  Resources and support available to students and fresh graduates at HKU iDendron.  Tell us if you want to suggest themes and speakers for future episodes. Share and stay tuned!
---
Revisit
Episode One: Culture, Tourism & Innovation (Mar 18)
第一集 – 旅遊變法
[陳志雲 • 陳智遠 • Rubio Chan • Jamie Cheung • Gurpreet Signh]
Episode Two: Retail – Partners & Opportunities (Mar 25)
第二集-Shopping 變陣
[羅永聰 • 陳子堅 • Terence Hon]