Events
【Summer Leadership Forum】Cultural Intelligence in Leadership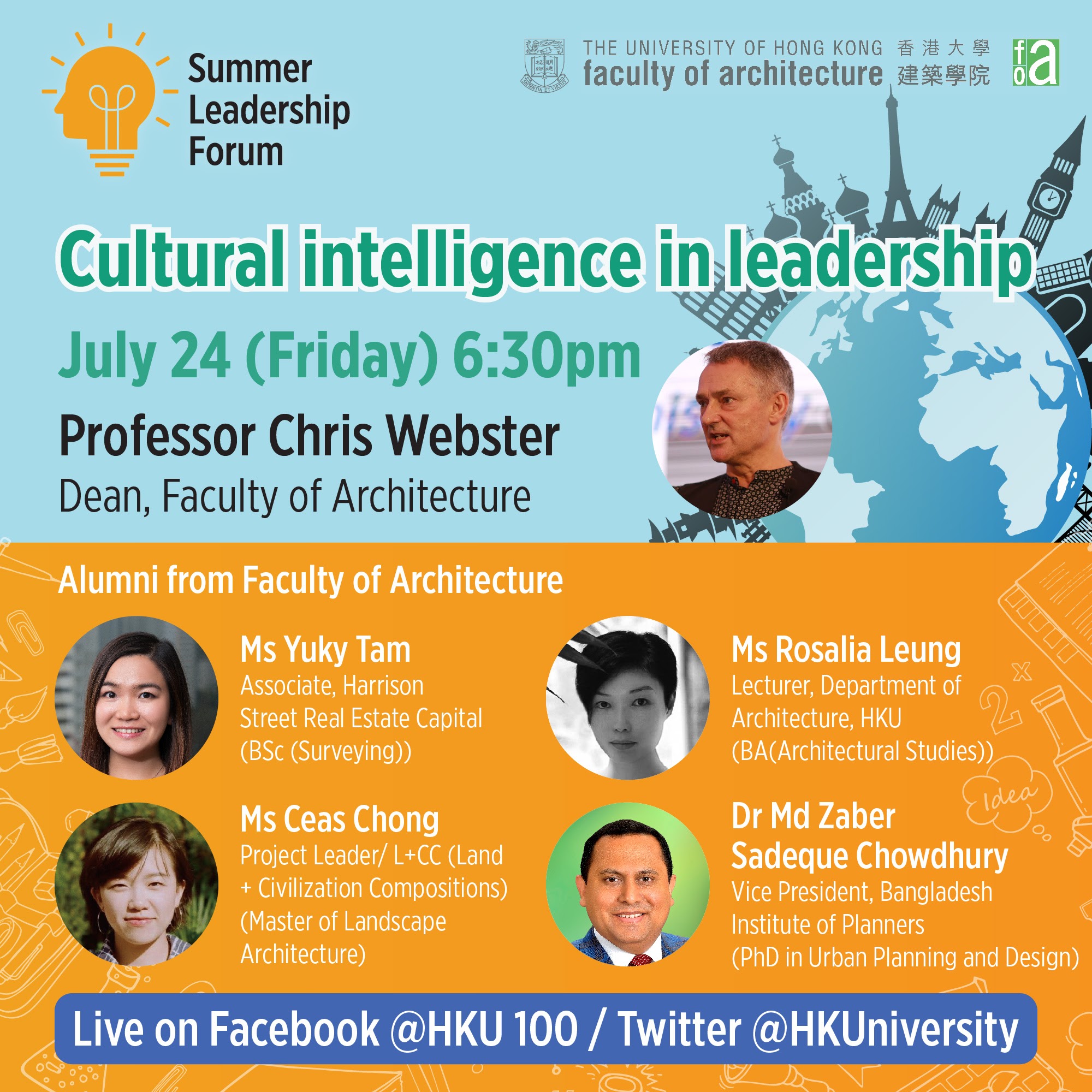 Why would you not want to be inclusive in your business? The current reversion from globalism to nationalism gives some hints. It should be easier for an individual firm, department, division, office or project team to pursue the productivity and social gains from cultural diversity than it is for a whole country. But many find it difficult. Many don't even realise that their monochrome culture is a hindrance to their expressed goals. Some are not even aware of the monochrome. Many individuals and groups walk through life looking at others as if in a mirror, assuming that the motives, behaviours, personalities and cultural references of others are the same as their own.
In this leadership forum Professor Chris Webster, Dean of the Faculty of Architecture, will be talking to four of our alumni about the importance of cultural intelligence in their experiences of working across divides in multicultural Hong Kong and more widely, in this very diverse region of the world where HK professionals do business. Cultural intelligence does not only apply to ethnic, language, religious, political, geographical and social dividing lines but also to professional cultures.
Date: Jul 24, 2020 (Friday)
Time: 6:30 pm – 7:30 pm HKT
Moderator: Professor Chris Webster, Dean of Faculty of Architecture, HKU
Alumni Panelists:
Ms Yuky Tam, Associate, Harrison Street Real Estate Capital (BSc (Surveying))
Ms. Rosalia Leung, Lecturer, Department of Architecture, HKU (BA(Architectural Studies))
Ms. Ceas Chong, Project Leader/ L+CC (Land + Civilization Compositions) (Master of Landscape Architecture)
Dr. Md Zaber Sadeque Chowdhury, Vice President, Bangladesh Institute of Planners (PhD in Urban Planning and Design)
Submit your questions here BEFORE 5:30pm, July 23 (Thursday)
Watch the livestream on Facebook@HKU 100 or Twitter@HKUniversity
*Please note that Q&A will NOT be taken from social media.
This forum is part of the HKU Summer Leadership Forum series. Ten forums with each of the ten HKU faculty deans are scheduled in July and August 2020.