In the News
Live from HK with Prof Keiji Fukuda: Policy Lessons from Asia
Live from Hong Kong with Professor Keiji Fukuda: Policy Lessons from Asia

[LIVE NOW] Dialogue with Prof. Keiji Fukuda, Director of School of Public Health at The University of Hong Kong, on the topic of "Policy Lessons from Asia". Leave your questions in the comment section.His fields of interest are public health policy and health diplomacy. Prof Fukuda was former Assistant Director General of the WHO and Chief of Epidemiology, Influenza Branch of Centers for Disease Control and Prevention in US.Experts expect the pandemic to last 18 months or longer. What are the similarities and differences between COVID and earlier major outbreaks? What are the policy options for government to maintain the operation of society while protecting the people from COVID-19?

由 HKU 100 發佈於 2020年4月15日星期三
Click play button of the above video and refresh the site if you cannot see it.
Live with Prof. Keiji Fukuda, Director of School of Public Health at The University of Hong Kong. Prof. Fukuda's fields of interest are public health policy and health diplomacy, with strong experiences in field investigations related to global outbreaks, such as influenza H5N1 and H7N9, pandemic influenza, SARS, MERS and Ebola. He will share his insights on "Policy lessons from Asia" in regard to the COVID-19 pandemic and take your questions from around the world. The live online event will be held 21:00 HKT April 15, Wednesday.
Experts expect the pandemic to last 18 months or longer. What are the similarities and differences between COVID and earlier major outbreaks? What are the policy options for government to maintain the operation of society while protecting the people from COVID-19? These are some of the questions we wish to explore.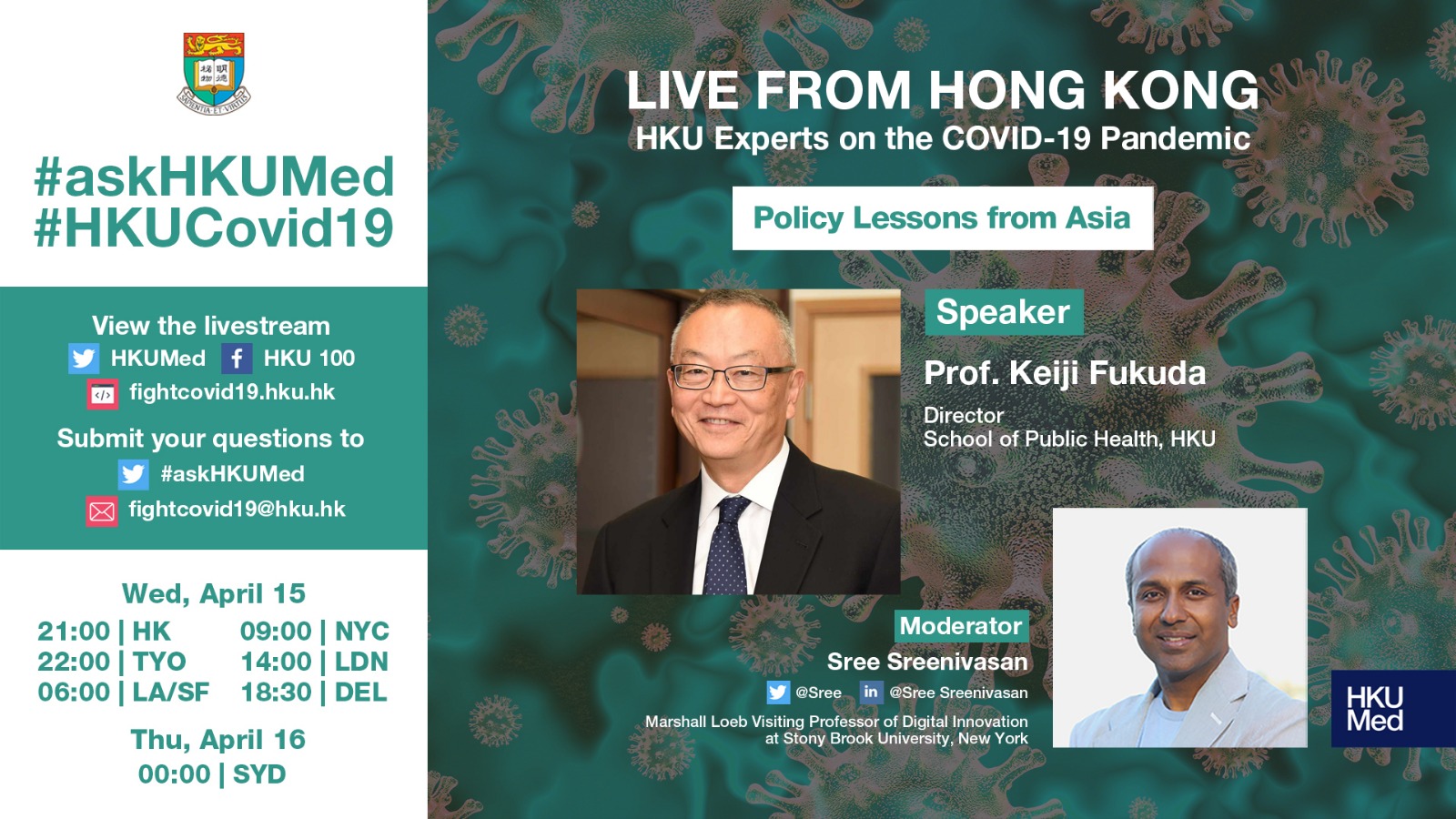 Send your questions
Watch the livestream
Date: April 15, Wednesday
21:00 HKT
22:00 TYO
06:00 LA/SF
09:00 NYC
14:00 LDN
18:30 DEL
 April 16, Thursday
Moderator: NYC-based Sree Sreenivasan, a social and digital media expert and Marshall Loeb Visiting Professor of Digital Innovation at Stony Brook University, New York
Speaker: Professor Keiji Fukuda joined HKU's School of Public Health in December 2016 and became the School Director in 2017. Under Professor Fukuda, the School has pioneered a holistic and multi-sectoral undergraduate programme on public health and development, established new research directions such as antimicrobial resistance and fostered collaborations and initiatives aimed at developing the next generation of health leadership. 
Previously (2005 – 2016), he worked at the World Health Organization in several capacities including Assistant Director-General for Health Security, Special Adviser to the Director-General on Pandemic Influenza, Special Adviser for Antimicrobial Resistance, and as Director of the Global Influenza Programme. He led global approaches to health security including the development and adoption of the Pandemic Influenza Preparedness Framework and implementation of the International Health Regulations as well as responses to events such as the emergence of influenza H5N1 and H7N9, the 2009 Pandemic influenza, MERS, Ebola and antimicrobial resistance (AMR). He was central to the international health diplomacy initiatives that resulted in the 2016 historic Heads of State level meeting at the United Nations (UN) and a UN resolution on AMR. Professor Fukuda was often WHO's main global media spokesperson.
At the U.S. Centers for Disease Control and Prevention Centers (CDC), he was Chief of Epidemiology, Influenza Branch and led CDC field teams that assisted Hong Kong during the 1997 avian influenza H5N1 outbreak and many other field investigations. He worked extensively with China on issues such as influenza surveillance, SARS and influenza H7N9. He helped develop new models combining epidemiological and laboratory data to improve US influenza surveillance and disease burden estimates, supported development of US influenza vaccination policy and led the international team that redefined the chronic fatigue syndrome. He is a physician and epidemiologist and received his BA from Oberlin College, MD from the University of Vermont, MPH from the University of California, Berkeley and EIS training at CDC.
This is the forth episode of the #HKUCovid19 series, a global dialogue with HKU experts online.