Events
【Summer Leadership Forum】Leadership in a Fast-changing Business World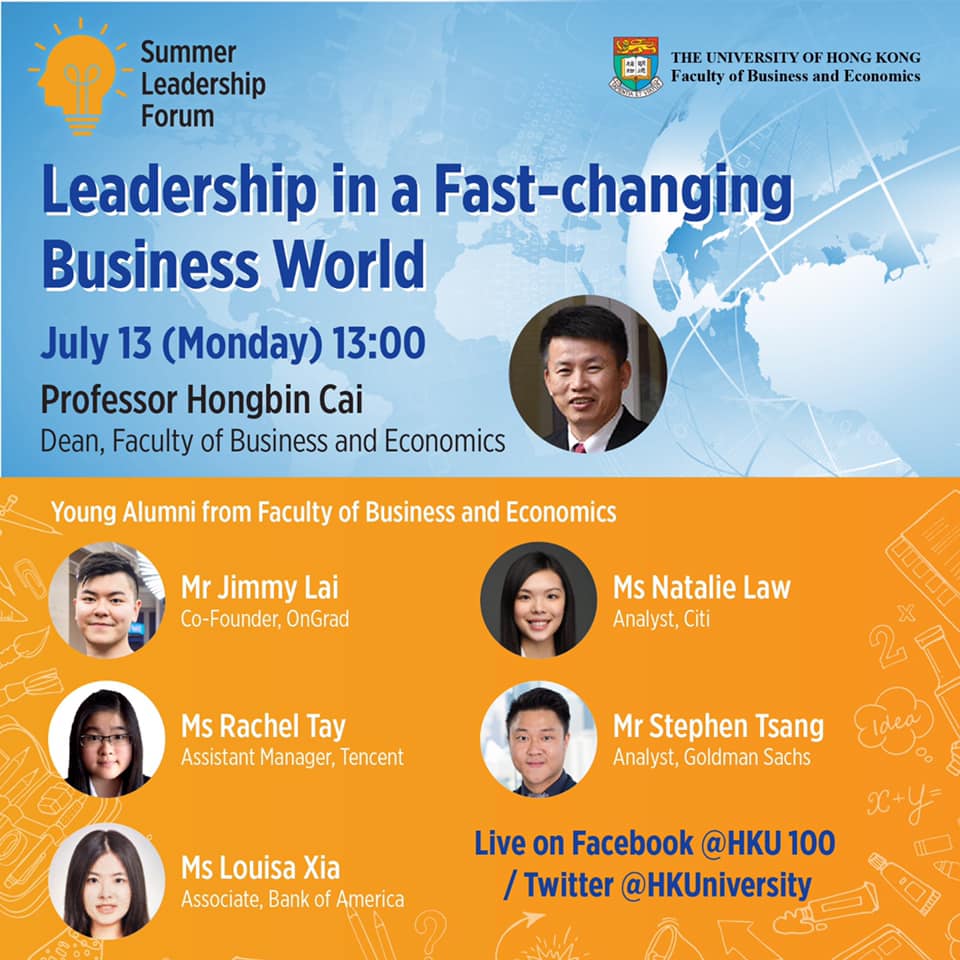 Today, the business landscape is continually being disrupted by rapid technological, social and political changes against the backdrop of accelerating deglobalisation. As a HKUer, how to navigate your way to success in the fast-changing business world, and develop yourself as an effective leader amongst uncertainties and challenges? This forum will bring together five young alumni to share with you their professional and personal development experiences, and discuss leadership skills which are needed in the global workplace with the Dean of Business and Economics.
Date: July 13, 2020 (Monday)
Time: 13:00–14:00
Moderator:
Professor Hongbin Cai, Dean of Business and Economics
Alumni Panelists:
Jimmy Lai (BBA(IBGM) 2014)
Co-Founder, OnGrad
Natalie Law (BBA 2019)
Analyst, Citi
Rachel Tay (BBA(Acc&Fin) 2019)
Assistant Manager, VB Innovative Products Department, Tencent
Stephen Tsang (BBA(Acc&Fin) 2017)
Analyst, Goldman Sachs
Louisa Xia (BBA(Acc&Fin) 2014)
Associate, Bank of America
Watch the livestream on Facebook@HKU 100 or Twitter@HKUniversity.

This forum is part of the HKU Summer Leadership Forum series. Ten forums with each of the ten HKU faculty deans are scheduled in July and August 2020.