Job-Seeker Survival Guide
August 26 (Wed) | 1:00pm – 1:45pm
Guest: Danny Kwan 關皓文 (BBA(IS) 2007; BEng(SE) 2008) Managing Consultant, Pinpoint Asia
Host: Alison Li 李沛媛 (BBA(Law)&LLB 2020)
Synopsis:
This week's Fireside Wednesday for New Grads covered an insightful and practical Job-Seeker Survival Guide from alumnus Danny Kwan (BBA(IS) 2007, BEng(SE) 2008).
Graduated in the 2008 global financial crisis, Danny understood the struggle the new Class of 2020 facing in landing a job amid an outbreak and answered diverse questions from the audience. His sharing covered practical tips ranging from enriching your CV to interview skillsets, where he stressed on the importance of having a specific and strength-oriented CV that stands out as head-hunters usually spend only 5 to 7 seconds on each CV.
Danny gave some practical things to note in the job application process and conducting online interviews:
Read the company's instructions
Apply well before the deadline – recruitment begins from day one!
Ensure you have a proper email address.
Check the interview settings and get familiarised with the online platform.
Thank you Danny for his advise and a huge thanks to everyone who tuned-in to engage!
Fireside Wed for New Grads
This 2nd Series (of 5 episodes) is dedicated to our young graduates and students.
Online closed group chat for intimate discussions on career paths, passion and opportunities.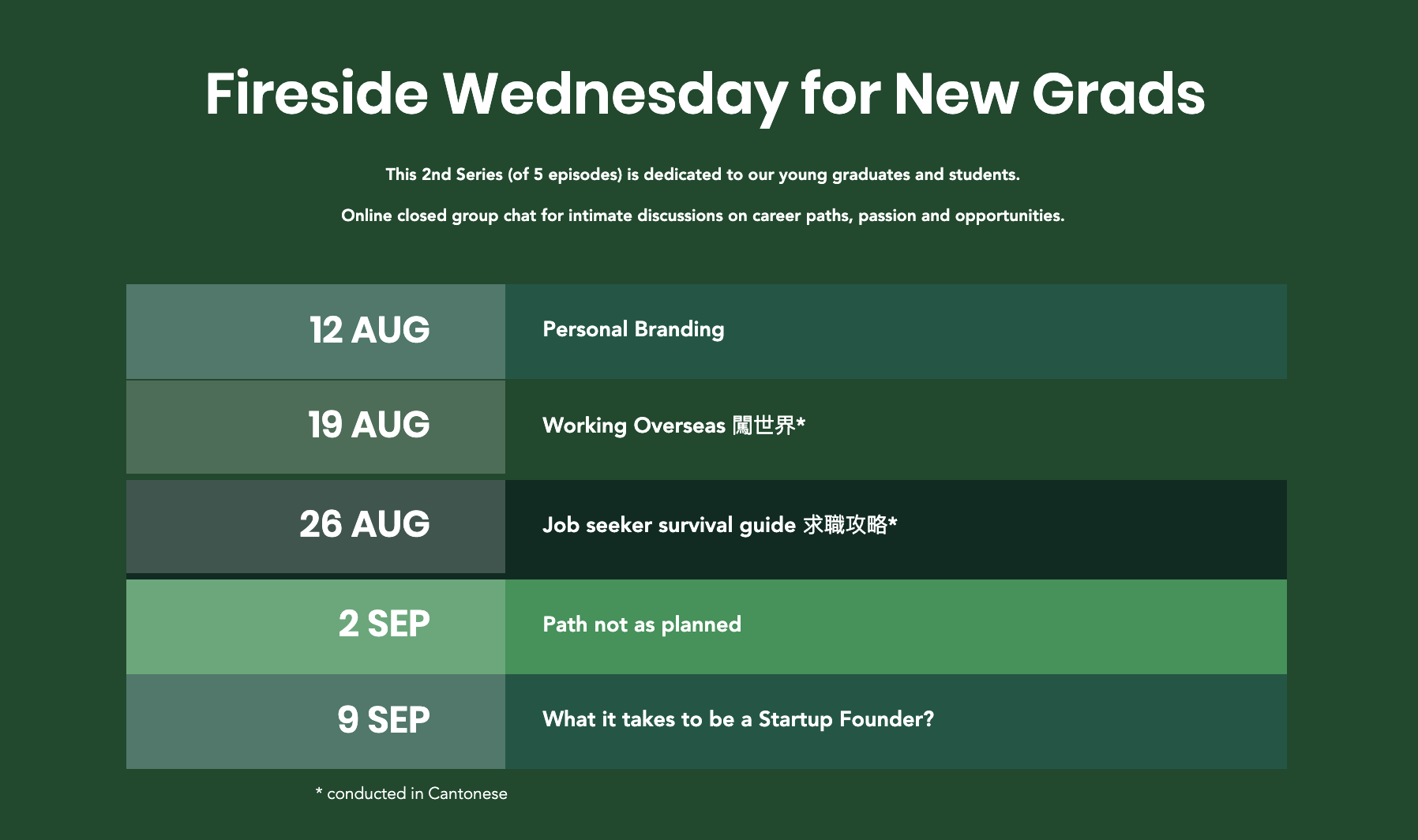 Pre-registration required: https://www.newgrads.alumni.hku.hk/fireside-newgrads