Live From Hong Kong
Live from HK with Prof Yuen Kwok-Yung: Masks and other lessons from Asia
Learn from HKU Experts about the COVID19 Pandemic
Live from Hong Kong! Learn from the Experts #3: Rising Research Talent

In response to the #COVID19 outbreak, governments have imposed lockdown across the globe. What are the role of masks and other measures in containing and mitigating the pandemic? And what are the prospects of a vaccine for the virus?Ask Prof. Yuen Kwok-Yung, Microbiologist, Henry Fok Professor in Infectious Diseases, Chair Professor of Infectious Diseases by sending your question to fightcovid19@hku.hk or tweeting #askHKUMed. He will share his insights on "Masks and other lessons from Asia" of the COVID-19 pandemic and take your questions from around the world.Live Q&A moderated by Sree Sreenivasan from Stony Brook University in New York at 21:00 HKT April 2 (Thur) at the FB Page HKU 100 and Twitter @HKUMed.More info: https://fightcovid19.hku.hk/live3

由 HKU 100 發佈於 2020年4月2日星期四
Live with Prof. Yuen Kwok-yung, Microbiologist, Henry Fok Professor in Infectious Diseases, Chair Professor of Infectious Diseases, Department of Microbiology at The University of Hong Kong. Prof. Yuen's field of interest is novel microbes in emerging infectious diseases. He will share his insights on "Masks and other lessons from Asia" of the COVID-19 pandemic and take your questions from around the world. The live online event will be held at 21:00 HKT April 2, Thursday.
In response to the outbreak, governments have imposed lockdown across the globe. What are the role of masks and other measures in containing and mitigating the pandemic? And what are the prospects of a vaccine for the virus? These are some of the questions we wish to explore.
Thank you for watching, click here to read the transcript
Moderator: NYC-based Sree Sreenivasan, a social and digital media expert and Marshall Loeb Visiting Professor of Digital Innovation at Stony Brook University, New York
Speaker: Professor Yuen Kwok-yung, who graduated from the University of Hong Kong in 1981 and heads the Department of Microbiology, has the rare distinction of being a microbiologist, surgeon and physician.
Widely known among specialists in infectious diseases, Professor Yuen Kwok-yung made his mark in 2003 when the outbreak of Severe Acute Respiratory Syndrome, or SARS, gripped the globe. He played a key role in the discovery of the agent causing SARS, the SARS coronavirus, thus leading to measures that were crucial to containing the outbreak of this disease. 
He has also led his team in the discovery of other disease agents, including the novel Human Coronavirus HKU1, the bat SARS coronavirus, and many other bacteria named after Hong Kong or China. He published the first clinical and laboratory diagnostic paper on Influenza A H5N1 in the Lancet which has been cited over 400 times.
He is one of the top 1% researchers in the world, as ranked by the Essential Science Indicator (ISI web), and has published more than 800 papers in peer reviewed journals including the Lancet, New England Journal of Medicine, Science, Journal of Virology and PNAS, with over 25,000 citations. His field of interest is novel microbes in emerging infectious diseases.
This is the third episode of the #HKUCovid19 series, a global dialogue with HKU experts online.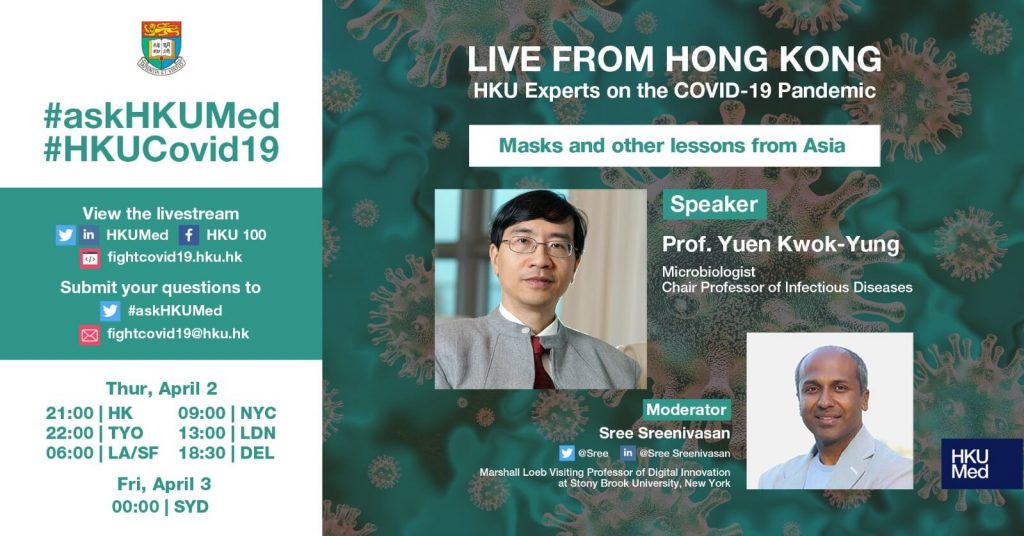 Send your questions
Watch the livestream
Date: April 2, Thursday
21:00 HKT
22:00 TYO
06:00 LA/SF
09:00 NYC
14:00 LDN
18:30 DEL
Friday , April 3